Salzwelten Salt Mines of Hallstatt
Current Corona Safety Measures
Due to the spread of the SARS-CoV-2 virus, effective immediately and until further notice, visitors to all Salzwelten locations are subject to statutory behavioral and hygiene regulations. In this regard, we have taken this opportunity to provide answers to some of your most important questions. (Subject to change).
What safety regulations must we comply with while we visit the salt mines? 
Compulsory registration and presentation of vaccination certificate / confirmation of a Covid disease(For children up to ten years of age, the test result of the parents or a legal guardian applies, from the age of ten children need their own test result.)
Wear an FFP2 mask
Keep a distance of at least 2 m
Disinfect your hands
Do I have to wear a face mask during the entire visit? 
The mask requirement applies to all indoor areas of all Salzwelten locations and also outdoors if the 2 m distance cannot be maintained.
Who has to wear a face mask?
All of our tour employees as well as guests ages six and up must wear a face mask.
Where can I disinfect my hands? 
Disinfectant dispensers have been installed in the entrance area of all locations for the use of our visitors.
Registration
Here you can download the registration form in advance to print it out yourself. Of course, you can also fill out the form on site.
Test Stations on Holiday
Dear readers, for cable cars and sights around Lake Hallstatt and the Gosau Valley, the rules applies: Vaccinated. Tested. Recovered. We have summarised for you below, the most important testing opportunities in Hallstatt, Bad Goisern, the Gosau Valley, Obertraun and Bad Ischl. Please register online or by phone.
Test Stations for Bad Goisern
Test Station
Bad Goisern Safety Centre
Hofrat-Renner-Weg 2b
4822 Bad Goisern on Lake Hallstatt
Location: Salzkammergut main road roundabout (B145). Opposite the "Hofer" discount store
Opening hours:
Monday and Wednesday
10;00 - 12:30
13:00 - 19:00
All other days
08:00 - 12:30
13:00 - 17:00
No registration necessary
Changes possible!
Testing for free
Bad Goisern on Lake Hallstatt
harmacy in the "Baumhaus"
on the Salzkammergut B145 main road near the Spar supermarket


Test times

Monday - Friday


8:00 - 12:00 hrs.
14:00 p.m. - 18:00 hrs.


Saturday


8:00 - 12:00 hrs.
By appointment only, by phone or via the homepage of the "Baumhaus" pharmacy in Bad Goisern

Test Stations for Gosau
Testen in Hallstatt und Obertraun
Test Stations for Hallstatt and Obertraun
Sonja Gapp
Doctor's Practice Hallstatt / Obertraun
Consultation hours Praxis Hallstatt


Monday


09:00 – 12:00 hrs.


Tuesday


09:00 – 12:00 hrs.


Wednesday


17:00 – 19:00 hrs.


Friday


09:00 – 12:00 hrs.

Subject to changes



Test Stations for Bad Ischl
Important information about the openings on May 19th
3G applies to all tourism businesses: guests have access if they have been vaccinated, tested or recovered.
In order to avoid waiting times, please come to the catering trade already tested.
(No test requirement in retail and when picking up in restaurants because less than 15 minutes)
Upper Austria Tourism: www.oberoesterreich.at/service/aktuelle-information.html
Opening rules WKO: www.sichere-gastfreundschaft.at/#lp-pom-block-2481

Valid tests:
1. Negative PCR test (valid for 3 days)
2. Negative antigen test from test street, pharmacy, etc. (valid for 2 days)
3. Negative controlled self-test (valid for 2 days)
4. School tests for access also apply to children
5. New from 19.5. Recognition of living room tests using a QR code (valid for 1 day): In addition to the five test kits per person from the pharmacy to date, every household will receive a pack of 20 test kits per month including QR codes from May 18th. Take a picture of the QR code and your negative test result. The confirmation will be sent by email or SMS. This is recognized as an entry test for 24 hours.
Vaccination: Proof by means of a vaccination certificate, vaccination card or printout. Valid from the 22nd day after the first vaccination.
Recovery: separation notice (up to 6 months after recovery), antibody test (up to 3 months nG)
Tests for domestic and foreign guests
Please

arrive

with a test in

your

pocket

(for foreign guests a corresponding test certificate is required when crossing the border)

Rapid antigen

tests can be carried out in public test stations (valid for 48 hours; also for foreign guests without an Austrian e-card)

Self-test under supervision in the municipalities

(valid for 48 hours; also for foreign guests without an Austrian e-card)

Self-tests and living room tests

with QR code or official registration (valid for 24 hours; attention: this test does not apply to border crossings) - Austrian guests, including those from other federal states, can bring these tests with them from home and also use them on vacation.

They apply throughout Austria.

Please note:

rapid antigen tests in pharmacies are only available for Austrians with an e-card (valid for 48 hours)

Point of sale tests

are an "emergency solution" for companies to test guests who cannot show a negative COVID-19 test (valid only in this one company)
 6 free test centers
Kongresshaus: daily 8:00 -12: 30 & 13:00 16:45.
Hospital: Mon-Fri: 6-7: 45 a.m. and 4-7: 45 p.m., Sat. + Sun .: 9:00 – 14:45
Rathaus (Pfarrgasse 11, 2nd courtyard): Mon, Wed, Fri from 10:00 to 13:00. and 17:00 to 19:00, registration information will follow.
Spa pharmacy , Tel. 0800-220 330
Marien-Apotheke , Tel. +43 (0) 6132 26 929
Esplanande pharmacy : +43 (0) 06132 234270
Registration for free testing at:
Online https://ooe.oesterreich-testet.at
Telephone: 0800-220 330 ( 7 a.m.-10 p.m.)
You will receive the test result after approx. 25-30 minutes.
Without registration, there may be waiting times.
Contact
Trinkhalle Bad Ischl
Corona Test Station
Auböckplatz 5
4820 Bad Ischl
Austria
Phone: +43 (0) 732-7720-0
Impfhotline: 0800-555 621
Trinkhalle Bad IschL
Corona Test Station
Test times
Monday - Saturday
08:00 - 17:00 hrs.
Sunday and Holiday closed.

Subject to changes

!
Please note
Due to the current situation, changes can occur at any time.
We look forward to your visit to the UNESCO World Heritage Region of Hallstatt Dachstein Salzkammergut and wish you a relaxing and restful holiday. See you in the heart of Austria.
Your editorial team.
On top of Hallstatt
 The historic Rudolfsturm Tower once was a fortification to defend the mining area against invaders and served as the home of the director of the mines. The tower still offers a gorgeous view over the village of Hallstatt and its lake, while the restaurant provides a variety of delicious local dishes as well as a cup of good coffee and a piece of home-made cake.
Those looking for a bit of excitement and want to enjoy the breath-taking Alpine panorama of the UNESCO World Heritage region of Hallstatt Dachstein Salzkammergut, then the impressive viewing platform on the Salzberg is just right. The so called 'World Heritage View' hovers 350 meters above the roofs of Hallstatt and offers a unique panoramic view over Lake Hallstatt and the impressive mountain scenery. The new visitor attraction is located directly below the former defence tower on the Hallstatt Salzberg (salt mountain).
Events
Mon, Nov. 29, 2021 Salt mine (Salzwelten) Hallstatt, Salzbergstraße 1 Hallstatt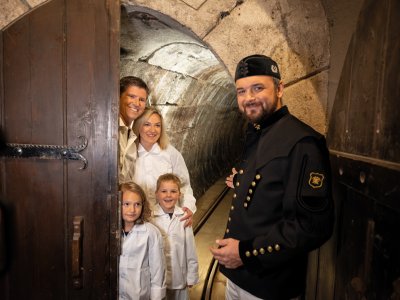 Bronze Age Cinema - 400 metres underground
Come and see the oldest wooden staircase in Europe at the new Bronze Age Cinema! Find out about the 7000-year old history of salt in an ancient salt mine! Working in collaboration, the Museum of Natural History (NHM), Vienna and the team at Salinen Austria AG have developed a new entertainment concept for Hallstatt: the new Bronze Age Cinema, located 400 metres underground. In 2002, the oldest wooden staircase in Europe was discovered in the prehistoric part of the Salt Mountain at Hallstatt. Following years of research, the new venue, which showcases the story of the ancient staircase, has now opened in 2015. Drawing on the latest scientific findings, a fictional story has been devised around the character of Udlo, a Bronze Age boy from Hallstatt. Now, in the new cinema, one day in the working world of the Bronze Age is brought to life. This is the first time that an animation has been projected directly onto an original archaeological object. Thousands of years of history meet hi-tech, and the latest research findings ensure this is an impressive experience for the visitor.