Freesports Arena Krippenstein at Lake Hallstatt
Winter sports areas closed!
Note for winter sports enthusiasts
Ski resorts reopen in December 2022
At the moment, the ski resorts in the Salzkammergut are in summer sleep. But even this time will eventually come to an end. Then it's back to the slopes. Snow permitting, the Dachstein West ski area in Gosau will open its doors just in time for Advent on Saturday 8rd December 2023. At the same time, the popular "Gosauer Bergweihnacht" Christmas market will also be open. In Obertraun on Lake Hallstatt, Father Christmas will open the new winter season in the FreeSports Arena on the 2000m-high Krippenstein on 23th December 2023. All subject to there being enough snow - see you skiing and snowboarding in the Salzkammergut.

 
Freesports Arena Krippenstein Are you ready?
For 30 kilometres of the finest deep snow? For the longest ski run in Austria? The Freesports Arena Krippenstein at the Lake Hallstatt has been chosen by SnowPlanet magazine as the hot spot of the freeriding scene – pushing great names such as Cortina, St. Moritz and Arlberg into the lower ranks! Beyond the ski runs and cliff drops, the 'Stoa', as the locals respectfully call this mighty mountain, provides inspiration with an exciting outdoor programme of events – far removed from the mainstream.
Thirty kilometres of off-piste variants and the snow-assuredness of the Dachstein Glacier area whet your appetite for powder snow and wide boards. Whether on skis or boards, the numerous variants on offer in Freesports Arena Krippenstein will inspire any powder snow fan! Schönberg, Imisl and Eisgrube provide rough rocky ridges, a variety of slopes and discerning forested sections, while the 1500 metres altitude of each run requires fitness and concentration.
'Days of Freedom' are an integral part of Freesports Arena Krippenstein – when simply anything goes: skis and boards, on and off-piste, freeride training and snow camps, snow-shoe hiking, ski tours, ice-climbing, dog-sled rides, paragliding. Or maybe you'd prefer to head down the pistes on a mountain bike … Or just watch the pros at one of the many spectacular events? Or maybe even some extreme Alpine lodge sitting!!??
Winter sports offers in the ski area "Dachstein Krippenstein" in Obertraun
Events in the ski area "Dachstein Krippenstein" in Obertraun
Sat, Dec. 23, 2023 09:30 Dachstein-Krippenstein-Cable car, Winkl 34 Obertraun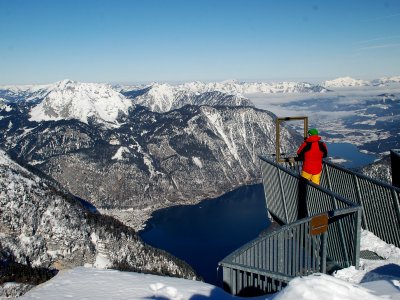 Sat, Dec. 23, 2023 09:30 Dachstein-Krippenstein-Cable car, Winkl 34 Obertraun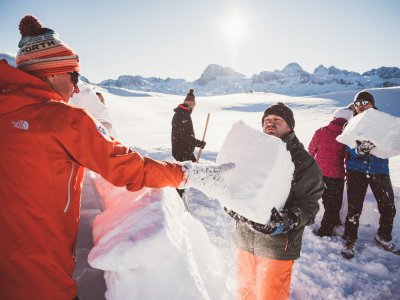 Booking in the Salzkammergut - Free accommodation for ski holidays



Hotels and accommodation providers in Hallstatt, Bad Goisern, Gosau and Obertraun offer the ideal room or apartment for your holidays, no matter what your tastes. Aside from establishments rated according to the international "star" scale, you will also find around Lake Hallstatt in Austria businesses that have been awarded two to four "edelweiss". The more flowers, the greater comforts you can expect. Whether you eventually find your cozy nest in an elegant 5-star luxury hotel, at comfortable guesthouse, a family-friendly apartment, or on a traditional farm, the choice is always entirely up to you.

.